RIoT Secure incorporated in May 2017; what a year it as been!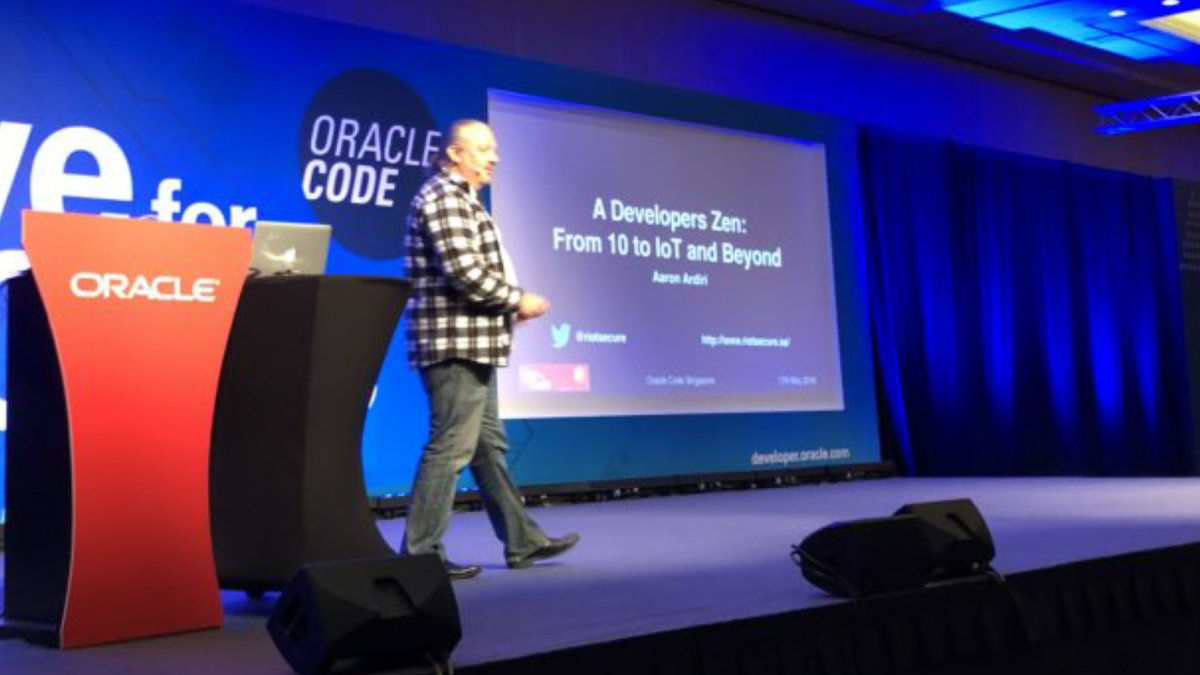 We definitely celebrated our one year anniversary in style; by delivering two luminary keynotes, covering a quick history of technology and the state of IoT security at Oracle Code developer events held in China and Singapore on the 8th and 17th of May 2018 respectively with two thousand developers on site and over half a million streamed the events online.
It is not every day you get an opportunity for such an audience - so we didn't hesitate at all!
The abstract for the keynote:
A Developers Zen: From 10 to IoT and Beyond
Personal computing kicked off for a limited few in the 80's with 8bit computers; it is amazing how quickly technology has changed since then. Starting from likes of the Commodore 64 through up to the cloud and then down to earth in the exciting realm of Internet of Things. Only a few have been able to experience the full evolution of computing technology, but even fewer can share experiences of always being ahead of the curve, exploring new things, failure, failure again, eventual success and a continued passion for technology. Meet a developer who still has a passion for coding but has been adapting to the ever-changing technology field - get to share in the experiences and knowledge that has been gained over the years from early tech, intellectual property, open source licensing and flexibility of working in startups through to acquisition and corporate politics of large fortune 500 companies. Hear it from someone who has been there, done that and still doing it-simply refusing to let go of technology.
and the final keynote that was delivered in Singapore.
Developer events are critical for developer outreach - so many topics get discussed and you get to see the challenges that developers run into first hand; Jim Crisanzio had the opportunity to talk specifically about IoT and security issues surrounding the technology.
While RIoT Secure may be officially a year old; there has been almost a decade of effort that has brought all the components together - shortly we will be announcing a number of products and solutions specifically targeting the IoT market and security.
Stay tuned for more announcements soon!
#oraclecode #conference #security #keynote #iotsecurity #iot #internetofthings #riotsecure